Takwâkin (Autumn) 2023 Indigenous Speaker Series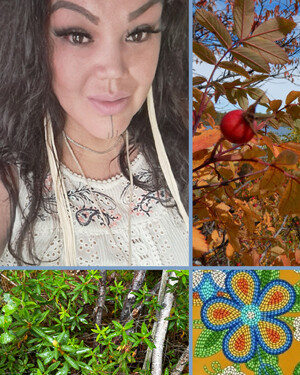 Joeanne Swampy: Teepee Teachings from the Land and Stars
October 6, 2023 | 1:00 pm - 3:00 pm
Miquelon Lake Provincial Park, Aspen Room
Joeanne Swampy (Jo) is a Master Facilitator from the Maskwacis (Bear Hillls) First Nation. She specializes in programming aimed at empowering our people, all presented through an Indigenous lens. Joeanne, a Day School and 60s scoop survivor, found her healing in connecting and learning our traditional teachings. She finds culture to be an uplifting experience and a way to bring us back to our roots. Her patient and loving teaching style allows for even absolute beginners to create intricate pieces that leave them feeling so proud, accomplished and empowered.
Joeanne is certified in a wide arrangement of train-the-trainer courses. Some including Harm Reduction, First Responder to Sexual Assault, Anti-Abduction Self Defense Training, Anti-Bulling, Life Coach Practitioner, as well she is certified in Dr. Gabor Mate's 'Masterclass for Healers'' just to name a few. Adding these courses to herself has in turn allowed the content of her programming to become more valuable to the participants. It has not only increased the skills of her clients but also increases the confidence in them as well. She is an instructor for some safety tickets including Food Safety, First Aid as well as Traditional Parenting, Circle Training and Naloxone Training. She also has a paralegal diploma and a business admin certificate. She started Walk in Grace as tribute to her mom Grace.
Joeanne is a remarkable leader and mentor. We look forward to seeing the heights that this Iskwew will go.
Have questions, contact bob@beaverhills.ca. We look forward to seeing you there.