One of Our Own Recieves Some Well-Deserved Recognition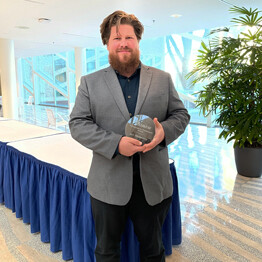 Last fall, Beaver Hills Biosphere's Indigenous Engagement Coordinator, Bob Montgomery, was awarded the first Okimâw Award for Environmental Stewardship. 
Held at Edmonton City Hall on November 18, 2022, the Okimâw Awards honoured Indigenous men from across Treaty 6, 7 and 8 territories for their contributions to the community. The ceremony included performances, drumming and a prayer from Elder Theresa Larsen Jonasson. Councillors Aaron Paquette and Anne Stevenson spoke on behalf of Mayor Amarjeet Sohi.
The idea for the Okimâw Awards originated with Janice Randhile, a recipient of the Esquao Award, which recognizes the work of Indigenous, Metis and Inuit women in Alberta. She saw a gap in the landscape where Indigenous men aren't recognized or celebrated for their contributions to the community.
"I thought we needed something like this to honour the accomplishments of our Indigenous men," Janice Randhile said. "The goal is to lift up our men and show our communities the work they're doing." 
The Okimâw awards are an opportunity for Indigenous men to be honoured for their contributions to the community. Indigenous men are rarely acknowledged for their achievements and the barriers they overcome to improve their communities. These  awards celebrate Indigenous men in culture, business, medicine, human rights and traditional teachings. 
Bob is one such role model. Through his work with the Beaver Hills Biosphere, he has been an excellent example of what it truly means to give back to the land. Connecting with Indigenous people and reconnecting people with the land is central to Bob's work.
"I nominated Bob for the Environmental Stewardship Award because of the work he is doing with the Beaver Hills Biosphere," explains Michael Gubbels, an Indigenous Training and Protocol Specialist for the Government of Alberta. "Bob is passionate about ethical stewardship of the land and reconnecting to Indigenous cultures."
Bob cares deeply for land and people, whether through organizing land camps and fishing trips to get people out on the land or facilitating conversations through the Biosphere's Indigenous Campfire Conversation series. 
"He holds dear the value of reciprocity and giving back to the land. The land gives freely to us, and we have a responsibility to do the same in return. The land is the source of our life. Bob's selfless work and generosity make him the perfect recipient for the first-ever Environmental Stewardship Award," Michael adds. 
When accepting the award, Bob spoke to the crowd about the value of fostering relationships with the land, particularly among Indigenous people, which is at the core of his work with the Biosphere. 
"Everything we've ever experienced, every lesson we've ever learned, all of our identities, all of our spirits are from this land. Especially as Indigenous people, this land is our home," Bob told the audience.
Congratulations, Bob! Thank you for the leadership and generosity you bring to your work with the Biosphere every day.