Walking the Path: Learning from Relationship with the Land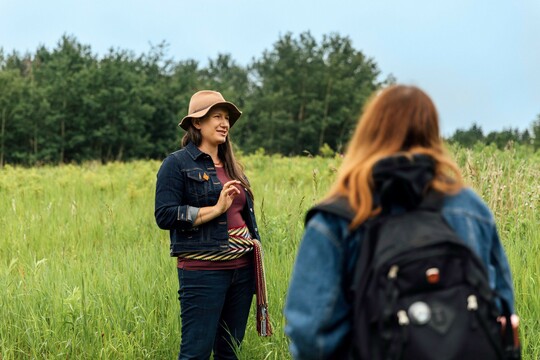 By Caitlin Hart
The morning air is damp and unseasonably cold as I arrive at Miquelon Lake. Milling around the research station are grad students, researchers and employees from Indigenous Tourism and the Beaver Hills Biosphere.
Natalie Pepin brings us into a circle before we embark on our morning-long plant walk through this beautiful area southeast of Edmonton in the Beaver Hills Biosphere. Natalie, in partnership with the Biosphere, will host several of these walks in different locations across the Biosphere, promoting Indigenous plant knowledge and connecting Indigenous people with the land and their lifeways.
Natalie, her long, dark hair covered by a wide-brimmed hat, is a warm presence on the chilly day. Incorporating her knowledge of permaculture, business and Indigenous practices, she teaches homesteading skills to Indigenous people reconnecting with their culture.
Although all of us are here as part of our work or studies, this isn't just a work day or research opportunity. We are here to encounter the land we live on and enrich our relationship with it. Many of the participants are Metis and Indigenous themselves. As a non-Indigenous settler and a lifelong Albertan, I have a lot to learn today from the experience and the other attendees.
We begin the day with ceremony, breathing in sage's sweet, earthy smell. Next, Natalie gives each of us a little tobacco. On our walk, we'll leave the tobacco with a plant that sticks out to us —the beginning of a relationship with a plant that beckoned to us in some unknowable way. This small act is illustrative of how Natalie works: bringing all of us into the experience through her knowledge, facilitating relationships between people and the land.
Miquelon Lake's landscape is characteristic of the Biosphere, replete with high grasses, marshes and woods. Green and brown dominate, spotted with the bright pinks and purples of wildflowers, the soft blues and vibrant red of the birds that call this area home. As we walk, I find myself noticing things I never used to notice, the colours and shapes of plants that usually blend together in my vision. We move slowly along the trail as Natalie draws our attention to the plants. As a busy, fast-walking urbanite, it takes all my concentration to walk mindfully. For me, walking is more transportation than thoughtful interaction with the land.
Growing up in southeast Edmonton and attending summer camp on Cooking Lake, I know the land of the Biosphere well. I ran through the high grasses bare-footed, climbed trees in the woods and learned to canoe on Cooking Lake. I spent summers roving the forest, picking grasses, weeds and flowers without knowing their stories, hearing birdsong without knowing their names. I've been guilty of taking this land for granted. I know very little of this land's Indigenous history. This day is a first step in rebuilding my relationship with this land that has sustained me all my life.
Natalie's work focuses on reconnecting Indigenous people to their culture and traditions that have been forgotten or destroyed. She has a lot to teach settlers like me, too. We're also disconnected from the land and its history, and we have much to learn from teachers like Natalie.
"One of the most beautiful ways I've seen my work influence people is encouraging gratitude and empowering people to approach the land as something to be in relationship with," says Natalie.
Natalie teaches homesteading skills like canning, tanning hides and making herbal remedies, among other practical skills. She also guides groups on educational walks like this one that uncover how Indigenous people have found food and medicine on this land for so long.
As a Metis woman with a background in resource management and environmental science, Natalie's work combines science with traditional wisdom. The medicinal power of plants, which Indigenous people have known for thousands of years, is borne out by contemporary science.
The Biosphere is alive in this work as Natalie teaches how to be in harmony with nature. Relationship is central to everything Natalie does. Her work engages Indigenous people, settlers and everyone and everything on the land, encouraging all of us to enter into good relationship.
"There is this perspective that humans are the absolute scourge of the Earth, and I don't believe that," Natalie says. "I believe that we're behaving badly, and that we could behave better, and that our existence is valuable to the land and that we can have a good relationship with the land."
Natalie at work is a study in good relationship. She stops and kneels as we walk through the muddy paths around Miquelon, getting eye level with the plants, touching them gently, with tenderness. Some plants we taste, teaching us how people lived off this specific land for millennia and how people like Natalie continue to eat what grows naturally here. Some plants we simply feel and take in, understand how they're used differently in different seasons. Roots, shoots and flowers all offer different medicines. Some plants are harvested in the early summer for medicinal purposes and then harvested later in the season for food. It's not as simple as labeling a whole plant as food or medicine; each plant contains possibilities for healing and nourishment in different seasons.
"This plant and I have a long relationship," Natalie notes. She says she doesn't know others well enough yet, but she is getting to know them. Through learning about the plants and leaving offerings, she fosters relationships with them, discovering what they can provide her and what she can give in return.
Because of the early summer rain, mosquitos are a constant presence as we step through the mud. We watch families of mallards swim and woodpeckers sit in the branches. Natalie explains how different barks and plants were used as insect repellents for pain relief, given to humans by Creator. Peppered throughout her explanations of the plant's use in medicine and food are stories from Natalie's own life and from history about how to eat and work with the plants.
The Biosphere is about harmony— between people and between people and nature. It is up to all of us to seek out and build that harmony, to forge connections through our learning and relationships. We are responsible for this land, charged with being caretakers. This is the relationship the land needs from us.
"Stewardship is receiving the benefit and taking on the responsibility for the land," explains Natalie "For example, I have a garden. I steward that garden, meaning I get the benefit of that food. But if I want the benefit of that food, I have to weed the garden and I have to water the garden. There's work for me to do in that relationship."
Now, as I take walks in Edmonton's river valley, just steps away from my downtown apartment, my perspective widens, my eyes taking in more colours, the shape of trees and grasses and wildflowers. I stop and consider plants I've never truly seen despite walking past them every day. What once looked like a monolith of green is distinct and beautiful, bright with all the things I've yet to learn about them.
Learning and developing that right relationship with the land I call home is just beginning. As Natalie encouraged all of us to do, I go and just sit in the presence of the plants. Talk to them and be with them, she encourages us. Just existing with them has so much to teach us.