Supporting Land-based Indigenous Learning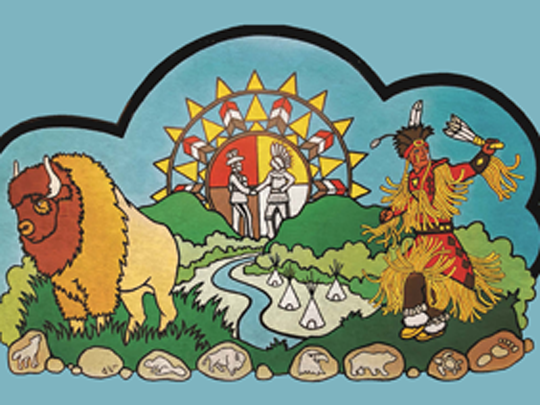 Led by Alberta Environment and Parks in partnership with the amiskwaciy Academy, a project that began in 2019 to advance reconciliation and foster land-based Indigenous learning is set to be finalized this fall. Learn more about this unique and inspirational educational project situated at Cooking Lake-Blackfoot Provincial Recreation Area in the Beaver Hills Biosphere that will benefit students in the Edmonton area.
Indigenous communities wanting to collect traditional medicines, hold ceremonies and events or hunt on traditional lands often face barriers. These barriers might include lack of reliable, consistent access to land-based learning opportunities in a safe and natural setting or lack of easily accessible group facilities within parks and protected areas that support Indigenous needs. Cultural traditions cannot be taught in a classroom and teachers are continually in search of land that is easily accessible and offers traditional medicinal plant populations so Indigenous students may learn about and reconnect with their culture.
Alison Cole, Visitor Experience Coordinator with Alberta Environment and Parks, and a project lead, explains how their partnership with amiskwaciy Academy and the Cooking Lake-Blackfoot land-based learning project came to be and why it is important.
"We wanted to help reduce barriers and address the need for land-based learning opportunities that exists among Indigenous schools," explains Alison. "This connection with land is crucial to preserving culture and building confidence and belonging among Indigenous youth."
After first building a relationship with the Academy, Alison's team from Alberta Environment and Parks (AEP) formed a partnership to dedicate an area of parkland within the Cooking Lake-Blackfoot Provincial Recreation Area to be utilized as an Indigenous land-based learning site. A large outdoor event tent was purchased for onsite shelter and plans are underway to clear a small area in the bushes to accommodate a teepee and/or sweat lodge for ceremonies. A traditional in-ground stone fire pit will also be built.
While AEP has experience delivering Alberta curricula-based environmental education in the Cooking Lake-Blackfoot Provincial Recreation Area for some time now, Alison is quick to point out that input from the Academy and the Indigenous perspective was of paramount importance in bringing this project to life.
"The Academy was consulted on all elements of the project," she adds. "From the artwork on the tent to the text and art used on the interpretive signs that explain why the site is there and why it is important. None of it would have been possible without their input, advice and feedback."
Although delayed due to COVID-19, once the site opens, outings on the new land will be restricted to amiskwaciy Academy for the first few years of the pilot project. AEP hopes that in subsequent years, more Indigenous youth from nearby – those with an historical and cultural connection to the Beaver Hills – will also be able to visit the site.
The biosphere connection
UNESCO biosphere reserves are places where people share a way of living with nature that builds a future people are proud of. Canada's UNESCO biosphere reserves also foster reconciliation between Indigenous and non-Indigenous Peoples through land-based programs and stewardship. The Cooking Lake-Blackfoot amiskwaciy Academy project, situated within the Beaver Hills Biosphere Reserve, is a living example of that biosphere reserve philosophy brought to life. amiskwaciy is the Cree word for Beaver Hills.
"Residents, visitors and Indigenous Peoples all share a deep connection to the biosphere's parks and protected areas," explains Alison. "The fact that this piece of land in the biosphere can have historical and cultural meaning to Indigenous Peoples, rejuvenating and recreational value to park visitors, and ecological value to the biosphere, is a tremendous example of finding common ground."
About the partners
amiskwaciy Academy opened 20 years ago and was the first of its kind in Canada . amiskwaciy Academy is an Edmonton Public School program of choice that provides solid academic programming within an Aboriginal context. The Academy employs Elders, Knowledge Keepers and other faculty who teach and support the students, encouraging them to learn and experience all elements of Indigenous culture. While most students are First Nations, Metis or Inuit, the Academy welcomes students of all cultures. Learn more about amiskwaciy Academy.
Alberta Environment and Parks is a long-time partner in and contributor to the Beaver Hills Biosphere. The work of the biosphere partners contributes to the environmental, social, economic and cultural wellbeing of the Beaver Hills region and its people. Learn more about other AEP environmental education programs on offer in the Cooking Lake-Blackfoot Provincial Recreation Area.