Outdoor Wandering: What to Pack and Where to Go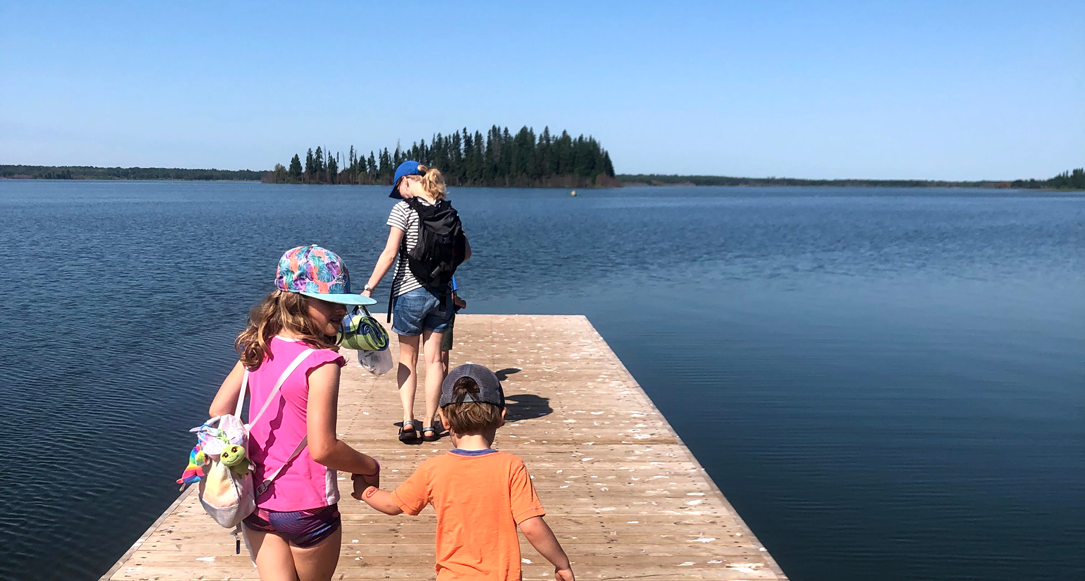 by Tara Beck
Hello summer, it's wonderful to see you again, we've been waiting.
Your long days and warm climes coax us from our homes to seek connection and adventure. We meet friends along shaded forest tails, dip our toes into cool flowing waters and sit fireside in endless evening twilight. We trade out boots for flip flops, mitts for sunscreen and toques for wide brimmed hats.
Some of us will prefer to stay close to home as we begin to navigate a world without COVID-19 restrictions, others will venture farther afield, seeking new places to explore and new ways to connect. Some will venture out on their own, while other will join up with family and friends.
Whether near, far, alone or in a large group, here are some activities to enjoy on the land and where to go in the Biosphere, along with some essentials to stuff into that tattered day pack recently unearthed from beneath a pile of discarded winter gear.
Ready, Set…
All packs destined for outdoor wandering should contain some common essentials:
Bug spray
Sunscreen
Wipes
A change of socks
Snacks
Water
First aid kit
Camera (the one on your phone will work)
A good book*
A sketch book and pencil*
*Because you never know when you will find a quiet spot to sit, read, observe and connect.
Go…
Birdwatching
Observation deepens connection. When we are invited to look closely at things, we an learn and appreciate so much. Birdwatching is a wonderful way to hone those observation skills. You don't have to know what you're looking at to enjoy birdwatching; all you need is curiosity and a few helpful tools.
What to add to your pack:
Where to go in the Biosphere:
There are endless spots for birdwatching in the Biosphere, for waterfowl rich viewing try the Waskahegan Trail at Ministik Lake Game Bird Sanctuary in Beaver County.
Stroll the Beaver Hills Biodiversity Trail in Strathcona County and experience boreal woodlands, wildlife and wetlands – some of the best the Biosphere has to offer.
Geocaching
For those who enjoy a mission, geocaching is a great way to explore a place. By seeking out hidden containers using GPS coordinates, each geocache is a treasure hunt with the best treasure being those unexpected discoveries along the way. 
What to add to your pack:
GPS enabled device
A small treasure to leave behind for the next geocacher to find
Where to go in the Biosphere:
Edmonton and Area Land Trust stewards four conservation lands within the biosphere. Their website has information about geocaches at each site. Try finding the Hicks Footprints cache in the Hicks Conservation Lands.
Star Gazing
There are many stories told through the stars. Be it while sitting around the campfire after the kids have finally settled in the tent or during a late-night adventure away from the bright lights of the city, exploring the stories of the stars is a great way to connect with place.
What to add to your pack:
Where to go in the Biosphere:
Miquelon Lake Provincial Park is a dark sky preserve and as such offers incredible star gazing opportunities. It is also home to the newly built Hesje Observatory (not open to the public yet).
Family Forest Adventuring
When you have young children along for summer adventuring, setting up a basecamp can help create a relaxing atmosphere for all. Instead of settling down near a picnic area or a busy playground, consider setting up camp on the fringes of a forest where kids will have ample opportunities to balance, climb, pretend and discover. While the kiddos play, adults can enjoy some slow looking of their own and partake in quiet reading.
What to add to your pack:
A tarp or picnic blanket
A good picture book
Extra snacks
Extra water
Rope of varying lengths
Small containers (recycled yogurt containers work great) for collecting
Tools such as paint brushes
Where to go in the Biosphere:
Wherever you end up adventuring, we hope you have a safe and connected summer. Share some of your Biosphere adventures with us using #explore #nature #beaverhillsbiosphere #learning #discover
Be Safe
As of July 1, in Alberta all public health measures regarding COVID-19 have been lifted except in specific settings. Check businesses' and organizations' websites for any additional COVID-19 related information or requirements before visiting or attending events/activities in person.
In most cases, it is up to individuals to determine which strategies, or combinations of strategies, are most appropriate for their activity. Good public health practices (including proper hand hygiene and respiratory etiquette, enhanced cleaning and disinfecting and staying home when sick) can minimize transmission of respiratory infections, including COVID-19, influenza and common colds. Stay home if you are feeling unwell.