Métis Earth Sciences in Action: Eco-tours in the Biosphere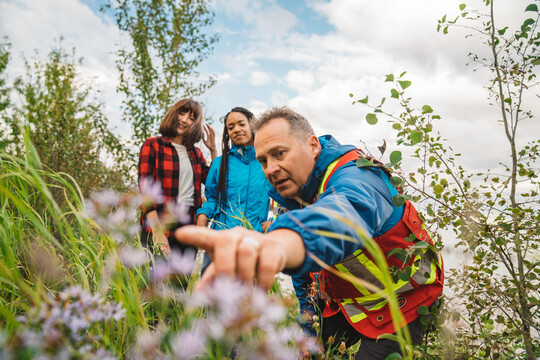 Recently, Bob Montgomery, Indigenous Engagement Coordinator with the Biosphere, had an opportunity to chat with Keith Diakiw, a Métis tour operator who offers experiences in Elk Island National Park. Here's what he learned.
Q: Hi Keith, Can you tell us a little bit about yourself?
A:  I'm a proud Métis. My ancestors are originally from the Red River Settlement and I was born in Prince Albert, Saskatchewan. My great-grandparents lived across the South Saskatchewan River from St. Laurent on a river lot, near the historic site of Batoche. Like many families of my parent's era, they moved to Alberta. I grew up in Hinton and I really enjoyed living near the Rockies and I consider Jasper as an extension of my backyard. From there I attended the U of L then the U of A to complete a total of three undergraduate degrees: the first in physical geography then at the U of A, I did Anthropology/Archaeology and Geology. I have been an Edmontonian ever since. Maybe down the road I will earn an MBA and a PhD in Geology and be called 'Dr. D'!
Q: Describe the tours you give in the Beaver Hills.
A: I offer two tours inside Elk Island National park: one hiking experience in the summertime and one snowshoeing experience in the winter with my company Talking Rock Tours. The summer discovery tour runs from May long weekend to Halloween. We start off with a learning circle before the hiking and sightseeing and then close with a sharing circle with indigenous music and teachings. The winter snowshoe discovery tour is from the beginning of December to about mid-March depending on the weather. Each tour is unique based on what the group members are seeking and what we come across during our tour. I share some of the natural and cultural history of the areas we visit through an indigenous lens to help my guests envision how the land was modified geologically and how it came to be the way we experience it now. Overall, we explore the many layered stories of the land together. 
I would like to expand out my tour offerings within the Biosphere to include a pristine natural area of 5-7 km, any suggestions?
Q: How did you get interested in earth sciences?
A: When I was a young boy I would always collect rocks whenever I was outside. Our family would go fishing or on vacations and I would go explore what the land and rocks were like along the way. There is so much diversity in the landscape between Alberta and Saskatchewan. I was always very curious about the world around me. I would take my dad's brick laying hammer and visit creek beds and gravel pits to break open various rocks to peek inside and wonder how they formed or where they came from. I would sometimes find fool's gold and get excited about it and think about the gold rush and being a prospector. Overall, every weekend was a mini-geo-adventure and I looked forward to the next one. 
Q: What drew you to the Beaver Hills specifically?
A: I am a big fan of "Back to the Future" and, for me, the Beaver Hills is an area that really maintains what our original landscape may have looked like. In Elk Island you don't have to visualize the past, you can see bison roaming the landscape today! I am grateful to all those in the past who took the care to protect this area so close to Edmonton that we can now enjoy. There is so much biodiversity there. It used to be that the elk were the big draw in the beginning, but seeing bison roaming on their land is a jewel of the prairies that makes it so special to experience. 
Q: How do you as a Métis person connect with this landscape?
A: I was thinking about starting Talking Rock Tours while working in the oil sands. It occurred to me that the best things in life are the places we visit, experiences we have, and the people we meet along the way. Connections with family and friends are so important and that is really the beauty of life. I think it is easy to get caught up in the mentality of "keeping up with the Jones'" but I really like the idea of returning to something more similar to how our ancestors lived. We miss out on a lot of those experiences when we are constantly busy with technology. As an Indigenous tour operator, I can really be that bridge between the way things are, the way they used to be, and the way things can be. I can assist people in discovering different ways of relating to the land. I believe it is important to remember that keeping up with the times isn't the be all and end all of life. We need to connect with Mother Earth, and to feel connected to both the land and each other. For Indigenous people and really everyone, it is in our DNA of where we came from.  
Q: What questions do you hope to explore in your time out on the land?
A: Each discovery tour is different, I gauge my audience and their needs and curiosities. Many participants are non-Indigenous and they bring their own perspectives, so it's exciting to show them different ways of seeing and experiencing the landscape. For Indigenous groups, I get to help them connect with sacred places and listen to guests recall their unique stories. I get groups of all ages and backgrounds and I learn alongside them as well. It's like each tour is a new canvas and a new way to learn. I can see why people who teach are so passionate about it because it's wonderful to see people's minds expand when they see things in a new way and the sparkle in their eyes.
Q: When you go out with people, what surprises you about their experiences?
A: For those folks who are born and raised in the Edmonton area, it's so incredible to hear them say "I had no idea!" I love being able to show them things that have been right in front of them their whole lives. People often think of Alberta as either the badlands or the Rockies. We rarely get to learn about the unique places right in our backyard. For those who come from afar, they are equally as surprised. Many people think of Edmonton as a blue collar hockey town, but there are so many layers of history right here to explore. Most participants leave amazed at what they learn and that is the best part of being a guide and an ambassador for Alberta.
Q: Is there anything else you'd like people to know?
A: I am now part of the Tourism Cares initiative that promotes operators who generate more than just revenue; they offer unique perspectives and compassion in their tourism work to create social good. I believe that tours are one of the best avenues to work toward reconciliation because they promote awareness through story to a captive audience. My pillars are: "science for the mind, stories from the heart, and history from the land." These pillars help to create a layered experience for guests and tap into who we are on the landscape. That way I can bring about an element of change and action through my tours. I want to be that change and witness the sparkle of hope in guests when they learn how they can engage in new ways; tours can be a real awakening for people that can have a life-long impact.