Meet Our Newest Team Members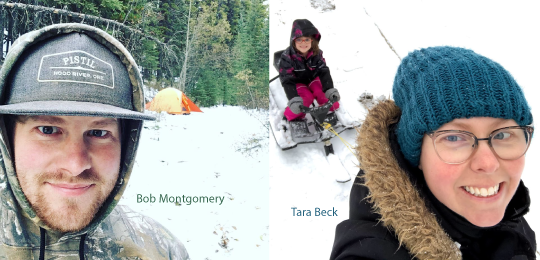 Bob Montgomery
Bob Montgomery was lucky to be born on Traditional Blackfoot territory in Lethbridge, Alberta. He is a member of the Métis Nation of Alberta and is in the process of understanding traditional Métis teachings, land-based learning practices and nêhiyawêwin (Cree language) that hasn't been spoken in his family for four generations.
Bob has had the opportunity to learn from Indigenous peoples from across Treaty 6, Treaty 7, Métis Settlements, Métis Nation of Alberta as well as urban Indigenous peoples. Bob recently joined the Beaver Hills Biosphere team in the role of Indigenous Engagement Coordinator.
After graduating from the Eco-Tourism and Outdoor Leadership program at Mount Royal University, Bob worked in wilderness and outdoor education settings before completing his Master of Arts in 2015, with a focus on examining his Métis ancestry and decolonization strategies. His career has been focused on experiential land-based education, Indigenous pedagogies, group capacity building and leadership praxis. All of these pathways stem from Bob's deep desire to foster more ethical connections with the land and community and he is continually seeking ways to address systemic barriers for Indigenous Peoples.
"A teaching that has been shared with me from Elders within and beyond my community is that everything we've ever heard, smelled, seen, felt, tasted and experienced comes from the earth," explains Bob. "We have a responsibility to reciprocate those gifts and I am learning ways to live up to that responsibility".
Bob is excited about working with the Biosphere, recognizing a strong alignment with his personal values of conservation and how Indigenous knowledges bolster our ability to live ethically on the land.
"All land is sacred, so in a perfect world we would live harmoniously with the land. The knowledge that Indigenous Nations hold can guide us on how to live sustainably and biospheres are places where these practices can be actualized and serve as models for all areas."
In the coming months, Bob will be spending time out on the land with knowledge keepers, Elders and community members, learning about the stories that exist within the Biosphere. Bob will also be working in parallel with other current Biosphere initiatives and programs to ensure Indigenous perspectives and knowledges are acknowledged and supported in those projects.
"I am lucky to have built long-lasting relationships with Indigenous community members across Treaty 7 and beyond and I hope that all this experience will enable me to listen to the priorities of Indigenous Nations, whose traditional territories the biosphere rests on, and find creative ways to realize them within the biosphere for the benefit of all," Bob adds.
As Bob begins his new position he looks forward to working with the land and Indigenous Peoples alongside the Biosphere, continuing his learning and offering his support. Connect with Bob Montgomery.
Tara Beck
From a young age, Tara Beck has been curious about connections; connections among people, connections to place, connections through story. This fascination with connections has guided her along some very rich and diverse pathways of experience. Tara recently joined our team to lead the development of an education plan for the Beaver Hills Biosphere.
Tara's work in the field of experiential learning has seen her develop and deliver programs for environmental and cultural organizations in British Columbia, Alberta and England. Most recently, she worked with the Royal Alberta Museum (RAM) as a program coordinator. At RAM she was involved in strategic planning, visitor research, program development and implementation. She also co-founded the Edmonton Forest School Society and considers herself extremely fortunate to be involved with an organization with a mission to foster "curious, confident, nature connected children."
As co-founder of Edmonton Forest School, Tara's appetite for observing connections compels her to have a strong evidence-based approach to her practice. Through her graduate work at the Institute of Education in London, she employed a variety of techniques to research teacher motivations and their engagement with parks and cultural institutions.
"Though diverse, my experiences are bound together by a common thread and passion for connecting people with place. Having worked as an educator in both classroom and community contexts, I have seen firsthand the importance of real place-based experiences to inspire authentic curiosity and deep connection."
With funding from the Edmonton Community Foundation, the Beaver Hills Biosphere is developing a comprehensive five-year plan to guide educational programming within the Biosphere. Tara has joined team to lend her diverse talents and aptitude for connections to lead the development of this plan. She looks forward to applying her techniques and understanding of experiential learning to the plan as she explores the incredible educational initiatives, opportunities and connections within the Biosphere.
Excited and inspired by the diversity of educational experiences already taking place within the Biosphere – through classrooms field trips, during outdoor recreation, among Elders and community and within families – Tara is eagerly digging into the research and development of the plan.
"I can't wait to talk to young people about what they know, what they want to know and what they want to experience in the Beaver Hills Biosphere," she adds.
As Tara begins her work in the Biosphere, she too is excited to learn more about the stories of the places and people of the Beaver Hills and work with young people throughout the region to connect and educate through story. Connect with Tara Beck.