From a Bison's Point of View: The Tale of FEISty the Bison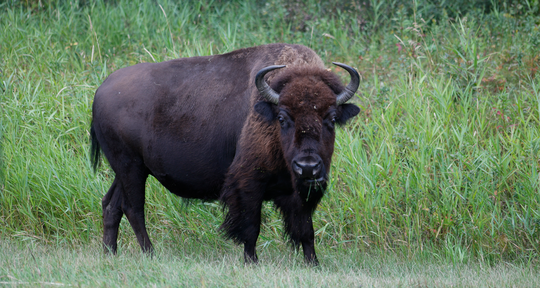 By Kelsie Norton
It starts with a partnership
Since 1984, Elk Island National Park (EINP) has been supported by Friends of Elk Island Society (FEIS), a charitable organization that advocates for promoting conservation, research, education and recreation in the park. Over the years, EINP and FEIS have partnered on impactful initiatives, such as weed pulls, pellet counts, beaver lodge occupancy studies and Trumpeter Swan reintroduction and surveys. More recently, FEIS has added wildlife monitoring and financing graduate research to their efforts. FEIS is a funder and supporter of research and advancements in conservation within the national park and surrounding Biosphere.
Keeping an eye on things
With FEIS's involvement, wildlife monitoring efforts have been steadily growing and advancing in the park. Since 2016, EINP has deployed upwards of 10 GPS collars on plains bison, which are located in the region of the park north of Highway 16. These collars are also equipped with an accelerometer (activity sensor) that is linked to the GPS data. This collective data allows EINP staff to track different types of activity such as knowing when a bison is travelling long distances, resting or calmly foraging among the grasses.
Earlier this year, EINP suggested another way to monitor bison and approached FEIS with the suggestion to not only to put a collar with a GPS and an accelerometer on a bison, but to attach a camera as well. The camera would record ten second clips that could be used for interpretive purposes and ultimately give them a way to verify the animal's activities that are tracked using the GPS and accelerometer data. EINP agreed to do the hands-on collaring portion while FEIS would sponsor this collar.
Enter FEISty
On February 10, 2021, staff at EINP secured a camera collar onto a pregnant five year old female plains bison, weighing just over 1,000 pounds. Her name is FEISty and she is part of this unique wildlife monitoring initiative and Elk Island National Park's historic bison conservation legacy. Her name incorporates Friends of Elk Island Society's acronym with the personality of most bison.
How does one collar the largest mammal in North America? With a special bison handling facility of course; one that is equipped with a squeeze that gently holds the bison in place to keep them from thrashing around and harming themselves or those around them. This special facility, which is set up in the park, aided staff to get FEISty all geared up to collect research data.
DYK? FEISty's beard was also trimmed to give the camera a clearer field of view.
FEISTY's point of view
FEISty was pregnant at the time of collaring, so staff and volunteers were eager to see her roaming with a calf. Throughout the spring and summer she was not seen regularly, so staff were unable to confirm whether she had a little one at her side. However, in late August, EINP staff saw a calf by her side and they expect it may be hers. (See picture)
The high visitor numbers at EINP this year resulted in another interesting opportunity for research. For example, what impact, if any, has the increased visitation to the park had on bison herd movement? Answers to this question and more can be determined by comparing historical GPS data to the latest GPS information, including FEISty's.
Thus far, EINP has been able to share some GPS data (see image), but due to the large files associated with the camera recordings, there won't be any visual sneak peeks until the collar is retrieved early next year. So stay tuned for updates to see FEISty's point of view of Elk Island National Park.
Where the bison roam
The map (see) highlights FEISty's movements from February 19 to April 13. The red box, that you can see the edge of in the area of denser points, is where she started, and the green box in the top left of her movements is the last location marked for this time period. The map indicates FEISty spent some time around the bison handling facility after receiving her collar but later moved on as the grass began to grow.
Photo credits: Parks Canada, Elk Island National Park, Jonathan DeMoor and Kevin Liew.

From a Bison's Point of View: The Tale of Feisty the Bison