Following the Cloven Trail: A Bison in Motion Update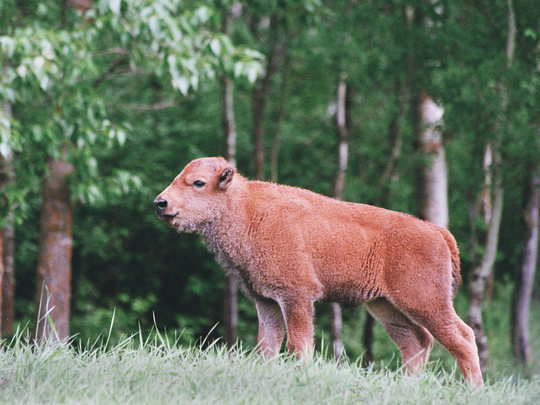 In April we brought you the story of the journey of a herd of Wood Bison (sakaw'mostos in Cree) that were relocated from Elk Island National Park to Woodland Cree First Nation in northern Alberta. Here is an update on how the bison have settled into their new home and how the Woodland Cree First Nation continues their work to ensure long-term success of their new residents.
Following the successful relocation of 14 Wood Bison from Elk Island National to Woodland Cree First Nation this winter, Lawrence Lamouche, Traditional Lands Manager at Woodland Cree First Nation, chatted with Beaver Hills Biosphere staff member, Kelsie Norton, to discuss how the bison were adjusting.
Six of the bison cows were pregnant at the time of the relocation and they gave birth in May/June. Four gave birth successfully but unfortunately two calves were stillborn.
"We have four brand new bison calves now," shares Lawrence. "It is sad we lost two but that is nature and the fact that we have four thriving is a great success."
Caring for the largest land mammal in North America is no easy task, but Lawrence is passionate and dedicated. In fact, his community has started to call him the "Buffalo Whisperer."
The Woodland Cree First Nation is also engaging with the community to advance efforts to support the bison.
"We are actively searching for and creating friendships with farmers in the area," adds Lawrence.
The Woodland Cree First Nation already has hay sellers and haulers ready to supply and assist the sakaw'mostos as needed. The community also continues to learn new things about the sakaw'mostos and are eager to find their role to help.
If you are eager to see Wood Bison, consider exploring Elk Island National Park, located 20 kilometres east of Edmonton in the heart of the Beaver Hills Biosphere.