Come As You Are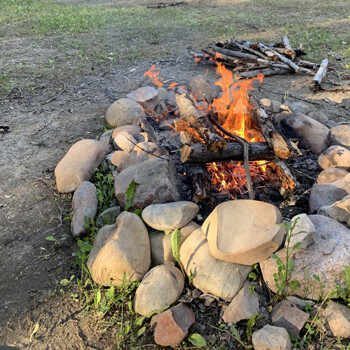 Exploring Indigenous conservation through conversation
In summer 2021, Bob Montgomery, the Biosphere's Indigenous Engagement Coordinator, began hosting an Indigenous Book Club to enable people to explore Indigenous perspectives of land and conservation through literature and conversation.
After several successful seasons of the book club, in early 2023, with the aim of attracting more people to the discussions, the book club was transformed into Indigenous Campfire Conversations. Rather than being focused on reading and discussing only books, the new Campfire Conversations draw their inspiration from an article, piece of art, poem, podcast, video or other works that spark curiosity and contemplation of Indigenous conservation. 
Held virtually on the last Tuesday of every month, the Campfire Conversations are a space for people to learn and bring questions and reflections. As works are discussed, participants explore how they might integrate this knowledge into their own lives.  
Recently, the Biosphere's staff writer, Caitlin Hart, had a conversation with Bob during which he shareds what these new Campfire Conversations have taught him.  
Caitlin Hart: How has engagement changed since switching from the book club format to this Campfire Conversations format where discussion is based on different, shorter works every month? 
Bob Montgomery: We've seen a dramatic increase in attendance and registration. The book club had maybe a handful of regular participants. But last week we had ten or 11 participants for the Campfire Conversation, almost four times as many people. So that's really encouraging. We're getting a breadth of people that we hadn't before. We have people from different provincial ministries, people from the United Church, people from the Biosphere and other Canadian biosphere regions.  By reaching different people, we're having a much larger impact. 
Caitlin: What do you like best about the new format and how it's reaching people? 
Bob: I think it's more accessible. You can join whenever it suits you, rather than committing to reading a whole book and being expected to show up to five or six meetings in a three-month period. The new format is a lot easier for people. Basing the discussion around different mediums, like videos or podcasts, lets us reach people with different learning styles. Not everyone sits down and reads, especially non-fiction books. It creates an atmosphere where people feel okay to make mistakes and say the wrong thing. It's a learning tool. It's not meant to shame anyone or pretend like one person knows everything. It's more of a collective where people can come and get curious and challenge their own ideas about the subject matter. The groups have such a breadth of experience. Everyone brings their own self and knowledge and questions and curiosity that helps me think of things in new ways and ask different questions. 
Caitlin: How have the conversations expanded your own perspective? 
Bob: It's helped me broaden my own knowledge. Some of the resources I've chosen are totally new to me, so it helps me to be part of the conversation and less of an expert. No matter where you are on this journey of understanding Indigenous perspectives on conservation and politics, you can always be learning.  
Caitlin: Why are these conversations so important? 
Bob: So many people have an appetite for these types of knowledges and they're curious about how to build relationships with Indigenous people. But there's a fear of getting things wrong. I've been told by a lot of non-native people that they're scared of saying the wrong thing and offending someone.  This initiative is geared toward non-native people. The conversations offer them a deeper understanding of Indigenous perspectives. We're particularly focused on conservation, but inevitably the discussion turns to history and contemporary challenges that Indigenous people face. It's a great opportunity to ask questions that come from an authentic place of curiosity. 
Caitlin: What have you personally learned from the experience so far? 
Bob: Everything seems to get distilled into this: we need a paradigm shift in how we look at the world as settler societies. We need to re-envision what we think of as progress. Luckily there are still Indigenous communities who are connected to knowledge of how to live more harmoniously on this land. It's really encouraging for me to hear those examples because I can get really bogged down and feel pessimistic at times. 
Caitlin: What do you hope people take away from the experience of participating? 
Bob: I hope they can integrate this knowledge into their lives and challenge some outdated or misinformed perspectives of Indigenous people. Even a small move of the needle in that direction can be groundbreaking. The feedback so far is that people are appreciative of this opportunity and the space that's created with these meetings. 
Become part of the discussions. Learn more here. Register for Campfire Conversations here. The current series continues through December 2023.