Artwork Highlights Community Connections in the Biosphere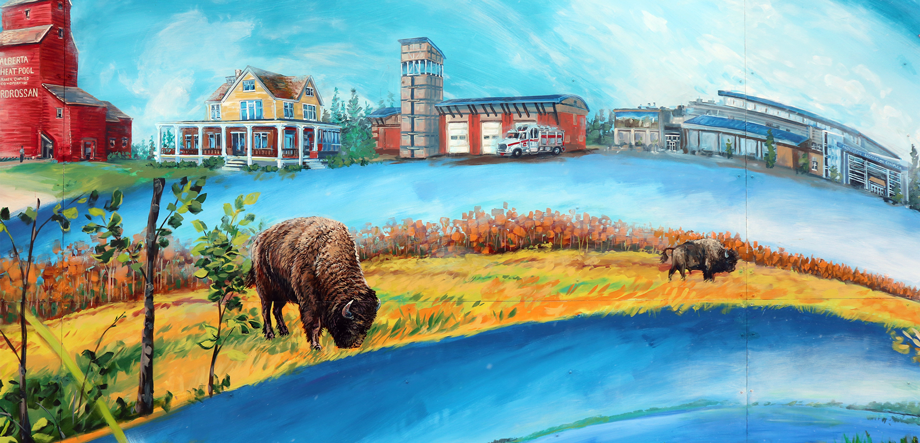 A new mural painted by artist Kris Friesen at the Strathcona County Museum and Archives captures the beauty of the biosphere and inspires the community to take a closer look at the cultural and historical links that connect us all.
For centuries, art has been used to convey messages and emotions that words cannot. This is something that Vancouver Island-based artist Kris Friesen has been doing for over 25 years. Currently a freelancer in Victoria, BC, Kris has spent the last quarter century painting his clients' stories and transforming their narratives into artwork.
"I love the unpredictability of being an artist," shares Kris. "You can never predict what your client will ask for but I'm fortunate to have a career telling people's stories through art."
His most recent work depicts scenes from the Beaver Hills Biosphere that tell the story of Strathcona County's rich natural and cultural heritage. Painted across various tiles, the original mural, which was unveiled November 4, 2020, measures 8×24 feet and is located on the side of the Strathcona County Museum facing Alder Avenue (Sherwood Park and Strathcona County News, November 2020).
The mural includes layers of local natural and human history including scenes from Elk Island National Park and Hastings Lake. Despite having lived in Edmonton for 15 years, Kris admits he was unaware these sites lie within the UNESCO designated Beaver Hills Biosphere. 
"Cooking Lake and Elk Island are actually some of my favorite places to explore in the greater Edmonton region, but I never knew they were in the biosphere," says Kris. "As soon as I learned of the biosphere, it all really came together for me and was a big eye opener that these places are connected to a bigger, cohesive effort."
With nature his favorite subject matter to paint, Kris was excited to promote the example of community and nature co-existing in harmony through this piece.
"We need to give attention to areas and species that are facing degradation because, whether we realize it or not, we have changed the world," adds Kris. "Humans aren't always connected to what's happening around them but bringing that to the forefront is something I can do through my art."
In these times where health measures are requiring us to stay apart, using art to inspire, retain and even grow our knowledge of and connection to community and the land around us is more important than ever. We encourage you to view the mural at the Strathcona County Museum and take a moment to learn more about the strong cultural roots and natural heritage than run deep through the Beaver Hills Biosphere.