A Special Welcome to Our Inaugural Biosphere Laureates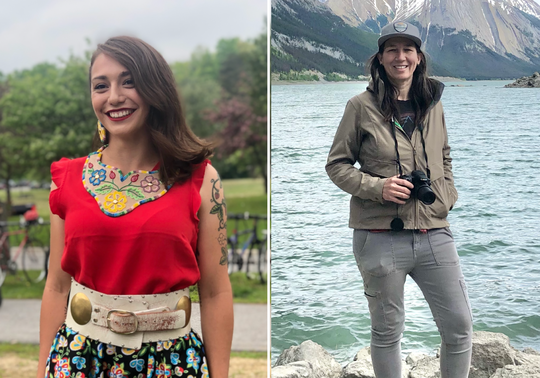 We have always been impressed and inspired by the work of historian laureates in other jurisdictions, like the City of Edmonton. This spawned an idea for the Biosphere - why not become the first Canadian biosphere (we believe) to establish not only an Historian Laureate but also a Visual Arts Laureate position as well? With the generous support of the Edmonton Heritage Council, we are doing just that!
This unique approach will assist and further our efforts to capture and share the rich and diverse history and culture associated with, and the creativity inspired by the Beaver Hills. Both individuals will serve as ambassadors and, through various activities, contribute to raising awareness of and appreciation for the history of the region, as well as the visual arts and culture of the region, along with the artists who live and work here.
Meet Our Laureates
Historian Laureate, Keara Lightning, is a member of Samson Cree Nation, and is currently an MA candidate in the Faculty of Native Studies at the University of Alberta. Her research analyzes the history of environmental management on the Northwestern Plains, exploring how scientific constructions of the landscape have worked to obscure Indigenous ecologies and Indigenous presence. She has previously worked in community engagement and environmental education for initiatives including Out In Schools, GreenUP Ecology Park, and TRACKS Youth Program. 
Visual Arts Laureate, Ariane Inman, is an Indigenous queer nature illustrator, Métis artist, photographer, and life long birder living in Sherwood Park, Alberta. She likes to illustrate nature from life and her own photographs from her walks in nature in Alberta's many landscapes. She uses graphite, pencil crayon, acrylic, watercolour. She is self-taught. She has been drawing animals and people for as long as she can remember and is excited by the possibilities of encouraging others to become stewards of nature through art. She was born in the homeland of her ancestors in the Red River, Winnipeg, Manitoba and spent most of her childhood living next to the Bay of Fundy in New Brunswick where she worked as a teenager in the summer for conservationist Dr Mary Majka at the Marys Point Western Hemispheric Shorebird Reserve, part of the Fundy Biosphere, while she attended photography school at Holland College in Charlottetown PEI. She is exploring her Métis heritage by learning the traditional art of Métis beadwork and is excited by the possibilities of combining her love of nature illustration with the traditional techniques of her ancestors. She is learning to speak Michif and believes that the landscape we spend time in shapes the landscapes of our minds including the language we use and is excited to learn the names of medicinal plants in Michif and share them with others through her art. Her art work focuses on understanding relationships between birds, plants, fungi, humans, identity and place.
Thank you
We could not have brought this idea to life without the support of Edmonton Heritage Council's Heritage Community Investment Program. We are grateful for their Project Accelerator Grant funding that made this initiative possible.