Rural Residential Stewardship Program Launched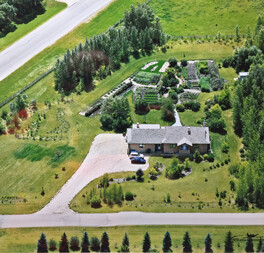 Are you an acreage owner within the Biosphere who wants to implement stewardship practices that conserve and protect the valuable natural assets, such as air, land, water, wildlife, associated with your property? We can help.
We are pleased to announce that with funding from Environment and Climate Change Canada and support+resources from the Green Acreages program, the Beaver Hills Biosphere is now accepting applications from small acreage, hobby farm and recreational property owners in the Biosphere to fund cost-shared, eligible stewardship initiatives on their properties.
"It's very exciting to launch this initiative for acreage owners in the Biosphere because it supports their participation in habitat stewardship, positive cumulative effects on ecosystem services, and recognizes their role in the Biosphere's goal of living and working in harmony with nature to inspire a positive future," says Milena McWatt, the Green Acreages Program Coordinator who is leading this initiative in the Biosphere.
Have questions? Connect with Milena directly.